Lake Owen Fun Dive Weekend
Here are some pictures and information recorded from our annual trips to Lake Owen. Lake Owen is located just outside of Cable Wisconsin and it is an incredible fresh water lake to dive. David Shirley hosts this Scuba Center fun dive weekend every fall on the weekend following labor day. There are usually 2-3 dives on Saturday, and 1-2 dives on Sunday. Highlights include a golf ball, lobster, happy rock, and/or bling bling hunt and the fabled string cheese search & recovery wreck dive. To top it off, there are usually lots of prizes donated by Scuba Center and David Shirley ... including fins, masks, lights, etc ... Wow! Editorial Note: I teach classes for Scuba Center, however, I'm not exaggerating! Take a look at the Scuba Center web site for more information. This is one of the best fun-dive trips you could ever hope to take. Hope to see you there!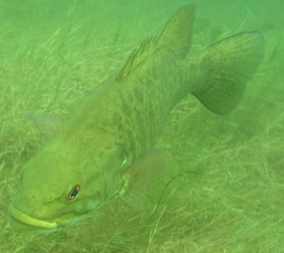 Here's the google map's link to Lake Owen.
Lake Owen / Google Maps
When you follow the link, click to 'map' view in the upper right hand corner to see the non-satellite version.
As you can see, it's a very long lake. It's very clear thanks to the lack of development on the shores and there are lots of bass, crayfish, fish cribs, a wreck dive, and many other sights to see. The maximum depth of the lake is about 110 ffw but most of the good diving is in water less than 30'. We dive a wrecked fishing boat which lies in aproximately 48' of water as well.
Every year we bring 25+ year old Avon inflatable boat along. It's about 17 feet long and we've had as many as 10 divers on board at a time. Correct, we are not planing when we are that encumbered but the boat does a good job of ferrying us to the varous dive sites on Lake Owen. Here's a picture of the Avon with a few divers on board. There's also pontoon boats available for rental at the lodge.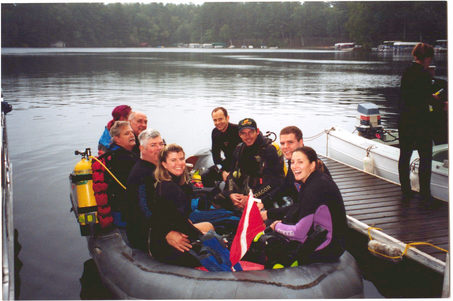 Here's my old 1984 Zodiac Mark IIC fully loaded with 4 divers at Lake Owen in 2004. What you can't tell from the photos is that the boat is half full of water! That's the nice thing about a Zodiac, they function well even when they are completly flooded -- LOL! Thanks to Margo for these pictures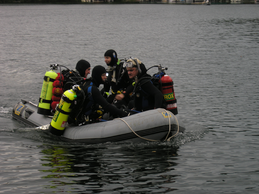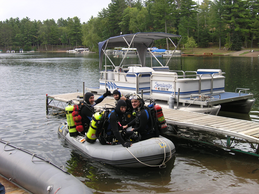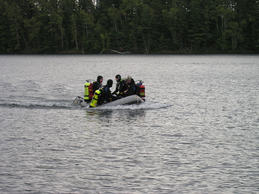 In 2005, we had 3 inflatable boats along. The Avon, the 1984 Zodiac, and my new Zodiac Futura.
---
Dan Mack Last modified: Mon Sep 12 14:07:12 CDT 2005